Being a first time mom has been one of the happiest, yet challenging adjustments in life thus far. To say that I am proud to be a mama to a beautiful, healthy daughter is an understatement. I live and breathe for morning cuddles over milk and coffee with my sweet little Deklyn.
Although I didn't have extensive complications, breastfeeding is still incredibly demanding and exhausting – both mentally and physically. Sure, my experience was enjoyable for the most part, but that doesn't mean I didn't battle small hardships along the way.
I truly feel that if you're prepared and have the right "equipment" when your baby is born, the less stress you'll endure later on. I've compiled a list of products that were EXTREMELY beneficial to me when it came to both breastfeeding and pumping. Without these products, my experience would have been daunting (sad, but true). Ask any mama – a specific brand of nursing bra, finding the most suitable pump, having a breast pillow available etc. will make or break your breastfeeding experience. I want to help prepare you as best as I possibly can!
And again, remember – the better prepared you are, the less stressed you'll be. Speaking of stress + motherhood, check out my post An Open Letter to All Moms for some additional support from yours truly. I can't express the importance (especially when you're a new mom) of taking care of yourself. Breastfeeding is a such a messy, stressful, yet beautiful experience. However, you can make your breastfeeding experience less stressful with a few products I've tested first hand. Here's a list of Newborn Products I Love (& Dislikes) for those of you mamas interested in what to have ready before baby arrives!
16 Products that Make Breastfeeding & Pumping 10x Easier
1. Medela Pump In Style Breast Pump – Most insurance companies will pay for the pump, so make sure you pick a good quality one! Read reviews. When given the choice, ALWAYS choose a double pump. You'll save yourself a ton of time. Medela Pump In Style is extremely convenient for an on-the-go mama. The pump comes in a separate pack than the large, microfiber tote. I can't say enough good things about my Medela Pump In Style. When I was home, I could use the small, portable portion of the pump. Another thing about this pump is it has a lot of power for a small machine. Always start on low power, then gradually increase as needed. Expert tip: never use your pump at 100%, it won't extract any more milk than if it was at 50%. Just because it appears as if the milk is letting down quicker, doesn't mean you'll end up with more by the time you're finishing pumping. I generally always pumped at around 50% power.
2. Milk Cooler with Contoured Ice Pack– Mine came with my Medela pump, I swear by it. Honestly, the contoured ice pack saved me a ton of space. Four bottles (along with a couple frozen bags of milk) and the ice pack fit perfectly in the cooler. I will say, a small to medium size cooler is almost necessary if you're traveling anywhere since breastmilk is only good for a few hours at room temperature. As Deklyn got older, she drank more. We ended up purchasing this Skip Hop Baby Grab and Go Insulated Cooler as well to hold the additional breast milk bottles. You'll learn pretty quickly that having extra everything is key to surviving the newborn stage. 😉
3. Vehicle Lighter Power Adapter – On-the-go mamas, working mamas, travel mamas, or any mama who spends a decent amount of time in your vehicle – this one product alone will save your life. The Medela Pump In Style breast pump takes a 12-volt. Other pumps may take a 9-volt, but make sure to check the pump manual before purchasing. Us moms need to make breastfeeding and pumping as convenient as possible!

4. Nursing Pillow – I own two different pillows. It was difficult for me to choose a favorite because I absolutely loved both brands, so I'm going to list them both. The first one I tried is called a Boppy Nursing Pillow. I do think the boppy is fluffier, more comfortable, and most similar to a standard pillow. The second is My Brest Friend Nursing Pillow. My Brest Friend is a more flat and firm type of material for better support – similar to memory foam. In my opinion, either product is going to give you more support than nothing at all, it just depends on what works best for you.
5. Nursing Bras – The toughest part about buying nursing bras for me was deciding what type of support I needed. A bra with an underwire is frowned upon because you generally want breathable, comfortable material that's loose fitting (avoiding mastitis). The MOST comfortable nursing bra I'll ever own is the Gilligan & O'Malley's seamless nursing bra from Target. The material is nylon and spandex. Don't get me wrong, I love my Victoria's Secret bras, but I've considered looking for a standard bra with this brand. (Shh, I wore this nursing bra weeks after I stopped breastfeeding because it was that comfy).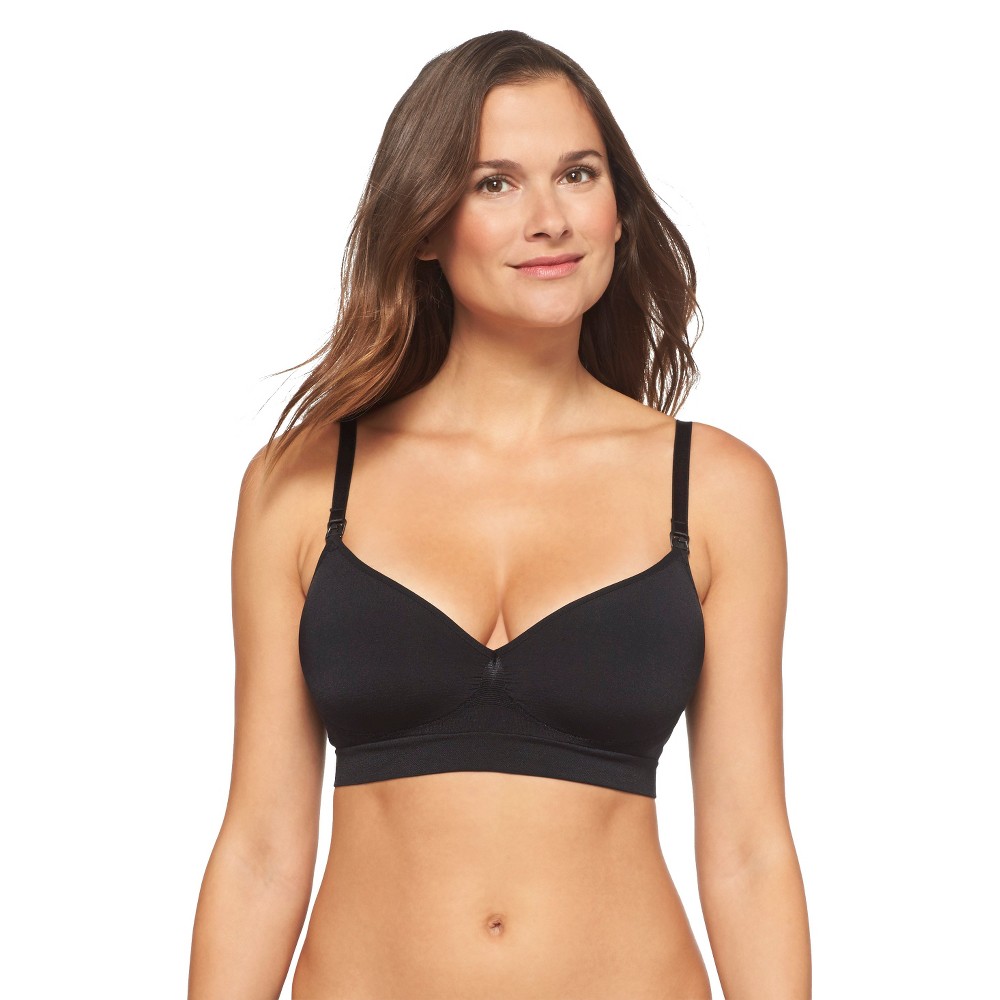 6. Nursing Tanks – These iLoveSIA Nursing Tank Tops have the same type of comfort and are made of the same material as the Gilligan & O'Malley bras. Ahh why can't they make general women's clothing like this?! Or am I just not looking in the right places?
7. Nursing Cover – Some mamas say when in doubt, use a nursing cover; others say screw it all together. This is YOUR call. I bought one for my own security (and I like to be prepared, regardless of how I think I'll feel later on). I got lucky and it ended up working in my favor. Before I had Deklyn, I signed up for a 12-month magazine subscription for $2.99 at Motherhood. Without knowing, I began receiving vouchers for free products – the only thing I had to pay for was shipping and taxes. I received a free Udder Cover voucher and purchased this mint colored Jordan Pattern for around $16! They have too many cute patterns to choose from. I contemplated patterns for WAY too long, then I found mint and instantly fell in love.
8. Nursing Pads – At my baby shower, I received SO many different brands of nursing pads. Everyone was making sure I was covered in the breast care category (thanks friends and fam!) I've tested nearly every brand of nursing pads and the one brand I would recommend above all is Lansinoh. You can buy a 100 count box for $10 here! Lansinoh nursing pads cup your breast to lessen the chance of leakage and are double the thickness of Medela or Nuk brand! Trust me on this one (I've tried them all), it's not worth the struggle to buy any other brand! Washable nursing pads are bomb, too!
9. HandsFree Pumping Bra – A good quality hands free pumping bra will save you an immense amount of time. You'll be able to do other things while you're pumping and the multi-tasker in you will scream with excitement. This Medela Hands Free Pumping Bra did wonders! It's super nice for when you're driving to and from work. I'm not sure if I should say that loud and proud, but I mean, at least it allowed me to multi-task.

10. Nipple Cream – Believe me when I say, you want to find a good nipple cream before your baby arrives. The first couple weeks are the toughest – your nipples will dry out, crack, and there's a good chance of them even bleeding. I suggest finding a cream that's hypoallergenic and doesn't need to be washed off before nursing. You learn how to save time wherever possible and this is one way to do that. I swear by my Lansinoh Nipple Cream. I used it frequently as chapstick – one less thing to worry about keeping track of or bringing along when I actually made it out of the house. It's similar to Vasoline, only you don't have to wash it off before nursing. (Yay for saving time – whoop whoop!)

11. Nipple Shield – After just a week and a half of breastfeeding, I was on the verge of quitting. All because my nipples were sore, cracked, bruised, and bled often (cringe!) Like I said, those first few weeks are so hard – mentally and physically. Often times, the doctor will give you nipple shields FOR FREE. Trust me, take as many as you can get. My doctor gave me three Medela Contact Nipple Shields. Score!
12. Therapy Breast Pack – I used the Lansinoh brand (what's new?). This will relieve your breasts from engorgement, plugged ducts, swelling or pain. It also helps with letting down your milk! The pack is microwavable AND freezable. Heat the pack up prior to pumping, place on your breasts until your milk lets down, stick them in the freezer, and replace after pumping.

13. MyMedela Breastfeeding App – With sleep at a bare minimum, us mamas need a little bit of additional help keeping track of feedings and diaper changes. I've heard of some moms using a ponytail and switching wrists after each feeding to remember which side to use next. However, I'm super forgetful. Like, really really forgetful. If you're anything like me, you'd easily forget to switch the ponytail. MyMedela Breastfeeding App will keep track for you! You can even mark the time, right or left boob, ounces (pumped or nursed), etc. It's a nice way of looking back days, weeks, or months of breastfeeding history to see how much you were producing then versus now.
14. An Endless Supply of Burp Rags – You can never have too many burp rags. I swear I had heaping piles of JUST burp rags when my daughter was a newborn. My FAVORITE burp rags were Green Sprouts Organic Brand. They're shaped to caress your neck so they'll stay in place better. So many times, I forgot it was hanging over my shoulder. The material is sooo soft and too comfy for words!
15. Good Quality Water Bottle – Buy a couple and keep them close all day. Water is key to your milk supply. The more water you drink, the more you'll produce. I can't say enough positive things about my Contigo Water Bottle. It holds 24 ounces, locks so its leakproof, and pop up straw. I've heard good things about Camelbak too, I've just never purchased one myself.
16. Cardigans or Zip-Ups – ALL I wore while I was breastfeeding was cardigans and zip-ups over my nursing tanks. Invest in them. Even when you're all said and done with breastfeeding, these clothing items will still be stylish. So why not stock up? They pair well with anything and will make your breastfeeding/pumping experience that much easier! *Cough, cough* Time saver, again.
I hope this list of breastfeeding and pumping products makes your life 10x easier like it did mine (especially with a newborn in the picture). I know first hand how tough it can be – use these products to your advantage! Add them to your baby registry. Most of your guests want to know what products they can purchase that you still need. This is a great way to display your most needed products. When I signed up for my baby registry with Target, there was an option to select items as "most needed." It's more convenient for your guests, as well.
Are there any products you found super helpful while breastfeeding that weren't on this list? What words of advice do you have for breastfeeding (or pumping) moms?? Please comment below! I'd love to hear them!
Let's stay in touch – Follow my journey!