**Disclaimer: before I get into the products I'd recommend and those I wouldn't, please keep in mind this post may contain affiliate links. However, this is not a sponsored post. All reviews are my honest opinions. I sincerely want to help you with your baby product purchasing decisions from prior experience.
Hey there again – Happy Sunday!
Gosh, doesn't it seem like some weeks fly by while others remain at a standstill? It's bittersweet. I don't want the weekend to end, yet I know it's just one day closer until my commencement! Sunday arrives, so I feel like I can sit down and relax. In reality, we're bustling around attempting to complete everything we didn't Friday and Saturday. Arrgghhh.
Nonetheless, I love the time I'm able to spend with my family. Our daughter is now a year old (where has the time gone??) She seeks adventure while running recklessly in the security of our 1300-square-foot home. The rest of the world is irrelevant to her at this age. As adventurous as she seems now, I pray she does not pick up and move across the country in 18 years (yes, I already worry about that). Mom – I'm sorry I ever threatened you with that statement back in my high school days, I sincerely apologize.
When Deklyn was a newborn (and even as she continued to grow), a few items in particular made postpartum and motherhood so much easier. Postpartum is one of the hardest stages of a mother's life. Especially just days after welcoming a tiny replica of themselves into the world and caring for them every hour of the day. Science states that postpartum has similar effects on the body as running a FULL marathon. Naturally, caring for an extremely needy human being, one that depends solely on you (and your significant other), is EXTREMELY exhausting, to say the least. It's important to purchase products that will keep your stress level at a bare minimum!

Disposable Diaper Pail
Oh. My. God. Do not go one day without a diaper pail. I received one from my cousin at my baby shower – one of the most useful gifts we received. Not only are we lacking sleep as new mamas, we are smelling things we've most likely never had to smell. Predominantly, before a newborn was permanently attached to our chest like we're connected by velcro (referring to breastfed AND bottle-fed babies). I'm talking circulating, lingering, foul odor that DOES NOT LEAVE YOUR HOUSE. Not just loitering in one room – noooo, of course not. The ENTIRE house smells like your walls are freshly painted with baby shit. Don't even think about throwing that dirty diaper in the kitchen trash can, either. You'll regret it a few moments later when the odor reaches a mere 200 foot radius, including your comfiest, primary recliner.
These pails can be found at most Wal-Marts and Targets, along with my favorite online store – Amazon (I talk a lot about Amazon in this article – it has saved me so much time as a mama). The least expensive Diaper Genie is more hands-on, accessible by lifting the lid at the top of the pail, then pushing the diaper through the opening. The Complete Diaper Genie is hands-free and accessible by a touch of the foot pedal, so you can quickly toss that stinky puppy inside. This product is seriously awesome! It's composed of a double lock design to keep odor inside the 7 layer refill bag. Need I say more? If your heart hasn't clung to the Diaper Genie, I've heard great things about a few other brands as well including: Munchin, Tommee Tippee, Bubula (steel version), and Safety 1st. I couldn't tell you my honest review on any of these brands, since I've only had the Playtex Diaper Genie. I sure love it though!
Baby Swing
What really assisted me for the first four months of motherhood… drum roll please… A swing! Invest in a good baby swing. My mom was so excited to start buying baby "stuff," that she first bought the Graco Swing By Me when I was about 20 weeks along. I will link it here, so you can get a good visual of the product. After our daughter was born, we felt the swing wasn't as safe for a newborn, but more built for a baby that's mobile and able to hold his/her head. The Graco Swing By Me is a portable swing, which makes it easy to move from room to room or when traveling.
My husband and I would place her in the swing, buckle her up, tuck her in a soft blankie, then turn the swing on in the lowest setting. We were still uncomfortable with the uprightness of the seat (which is nonadjustable). The lowest setting seemed quicker than other swings a few of my friend's had purchased. If you're looking for a newborn swing, I don't suggest the Graco Swing By Me. I really feel that it's unfit for a newborn.
There IS light at the end of the tunnel – my husband and I absolutely LOVED the Ingenuity Inlighten Cradling Swing! To make a long story short, my mama had purchased this swing for her place, but switched with us,to our liking. We ensured we felt secure placing her in a swing without sitting right next to her. You can check out this awesome swing at Target here. Another option, here's the Ingenuity swing on Amazon. Most of the time I purchase through Amazon when shopping for specific products, since I have Amazon Prime – free two-day shipping and free returns (Try Prime for FREE
 now). I highly suggest it – it has saved me from changing out of my PJ's many times. I'm a comfy over nice clothes kinda gal… Everyday. 🙂
Bottle Warmer
Talk about convenient. Whether you're a breastfeeding mom or a formula-feeding mom, most mamas will eventually need to warm a bottle up. Bottle warmers are for sleepless nights and making a mama's life hassle-free. Generally, bottle warmers are equipped with a steam warming system, so it requires little water for multiple trips to the warmer.
The warmer I have is one of the cheaper ones, but worked excellent! The Munchkin High Speed Bottle Warmer here is $18.89; it's simple and affordable! For comparison, other warmers are range as high as $50-$60 (and way more complicated than putting a small amount of water in and pushing one button to start). I would recommend this warmer over and over again.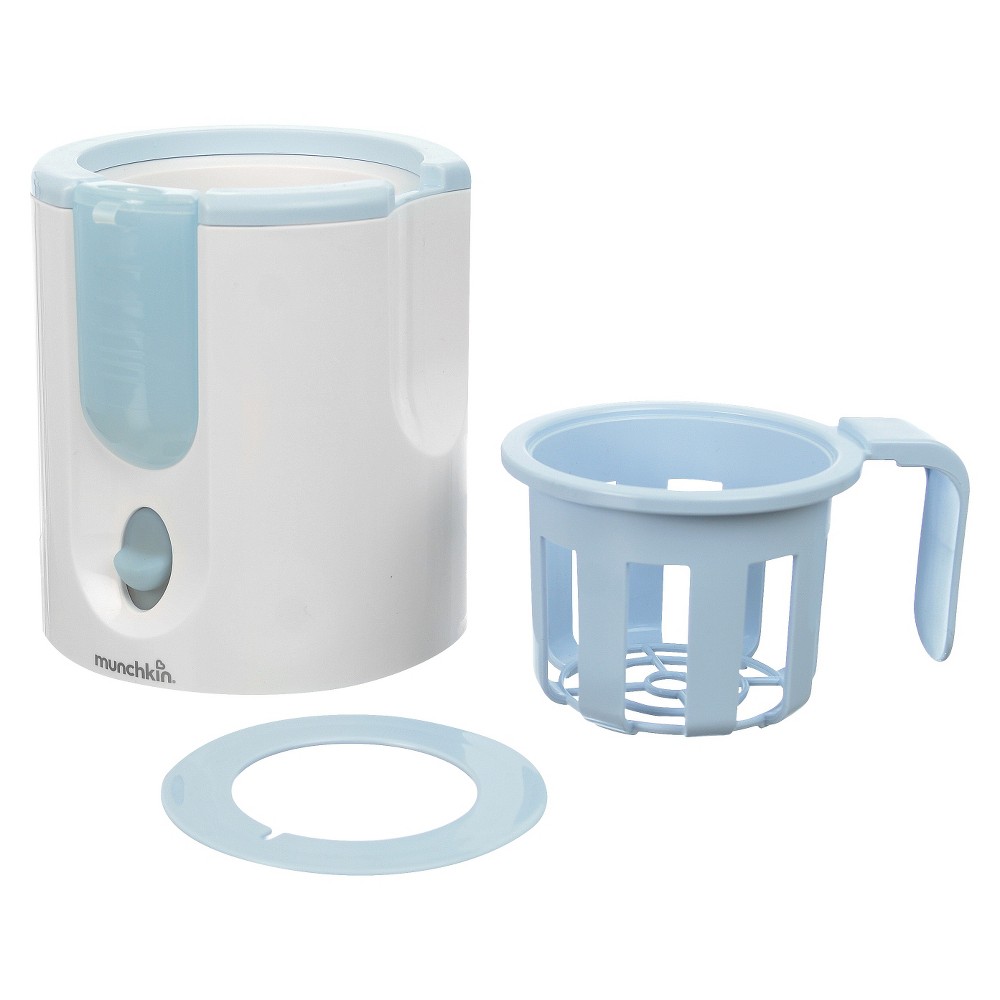 Newborn Sleeper
I'm guessing you've figured out at this point that I'm all for anything easy. It's light-weight, foldable, and I can take it anywhere? Sign me up please! I can't give enough positive feedback on the portable newborn sleeper. The most common brand I've seen is FisherPrice, with various designs and color schemes available. I love having options.
Honestly, I used this sleeper more than Deklyn's crib, in the first five months of her life. I felt comforted with her sleeping right next to me, rather than sticking her in between my husband and I in our bed (I'm a worry wart). Quite possibly the best feature of this sleeper is that the baby is positioned at a slant, which prevents SIDS. Our daughter was super comfy sleeping in it nearly every night, too. Whew! This decreased so many of my worries.
The sleeper we used for our daughter was a Fisher-Price Newborn Rock 'n Play Sleeper. I don't think I can ever part with this product; well worth the money spent. Affordable, convenient, foldable – Oh, it vibrates AND rocks to help put and keep baby asleep. Go ahead, see for yourself here!
An Unlimited Supply of Zip-Up Footie Pajamas
You will never go wrong keeping your baby in zip-up pajamas. You'll realize what I'm talking about when that cute newborn outfit is a pain in the freakin' tush to change, frequently might I add. True story: I made a trip to Once Upon a Child (awesome second-hand store for lightly worn baby items), to pretty much buy a cart full of zip-up footie pajamas. Don't regret it still to this day.
The best part about the zip-up pajamas is the CONVENIENCE. Make a mental note, write this one down, whatever you have to do – but, just buy them. If I received one dollar for every time my daughter blew out her diaper and I had to change her clothes, I'd be rich.
Although we had many zip-up PJ's gifted to us, whether handed down or given as presents for our baby shower and during holidays, I went out to buy more! I honestly found most of mine at Once Upon a Child, but I'm sure Wal-Mart, Target, Kohl's, Boston Store all carry them.
Baby Monitor
Alright, so, real talk here. I was TERRIFIED of baby monitors prior to having a baby of my own. There's this negative stigma of baby monitors being freaky. The thought of watching any baby sleep in his/her crib through a black and white screen as the rest of the room remains a dark unknown… Eek, was NOT my cup of tea.
Despite my acquired phobia of baby monitors, I swallowed my fear and hooked it up. After a few days, I grew to love the still somewhat creepy thing. I wandered anywhere in the house and didn't skip a beat of my daughter's sleeping position. A baby monitor is also a product you're able to use until you decide it's no longer necessary. The system generally allows for extra monitors, so you can buy extras and install as needed.
I'm not at all educated on various brands or features of each baby monitor, but I've had good luck with the SummerInfant brand even though I read a few bad reviews. It has worked for us thus far though! A baby monitor was one item I knew would be SUPER helpful, but I didn't spend much time researching. Please comment below if you have a different brand you love and explain why you love it! Thanks in advance. 🙂
Baby Carrier
I feel like everything I'm listing is extremely convenient, but that's the quality I look for most in baby products. A baby carrier is definitely an essential item. Whether you purchase a Boba, Ergobaby, Infantino, or Tula, the important thing is that you purchase one! Cleaning and cooking is less stressful. Wearing your baby actually relieves your baby's stress and reassures them that you're going to comfort them when they're in need of it. As newborns, all they truly care about is Mama. It's bittersweet.
I, personally, don't own a Tula, but it's on my list of 'Things to Purchase'! I've read review after review and heard nothing but amazing things from those who do own them. The company even designs inserts for newborns and carriers for toddlers. One of these days, I'll bite the bullet.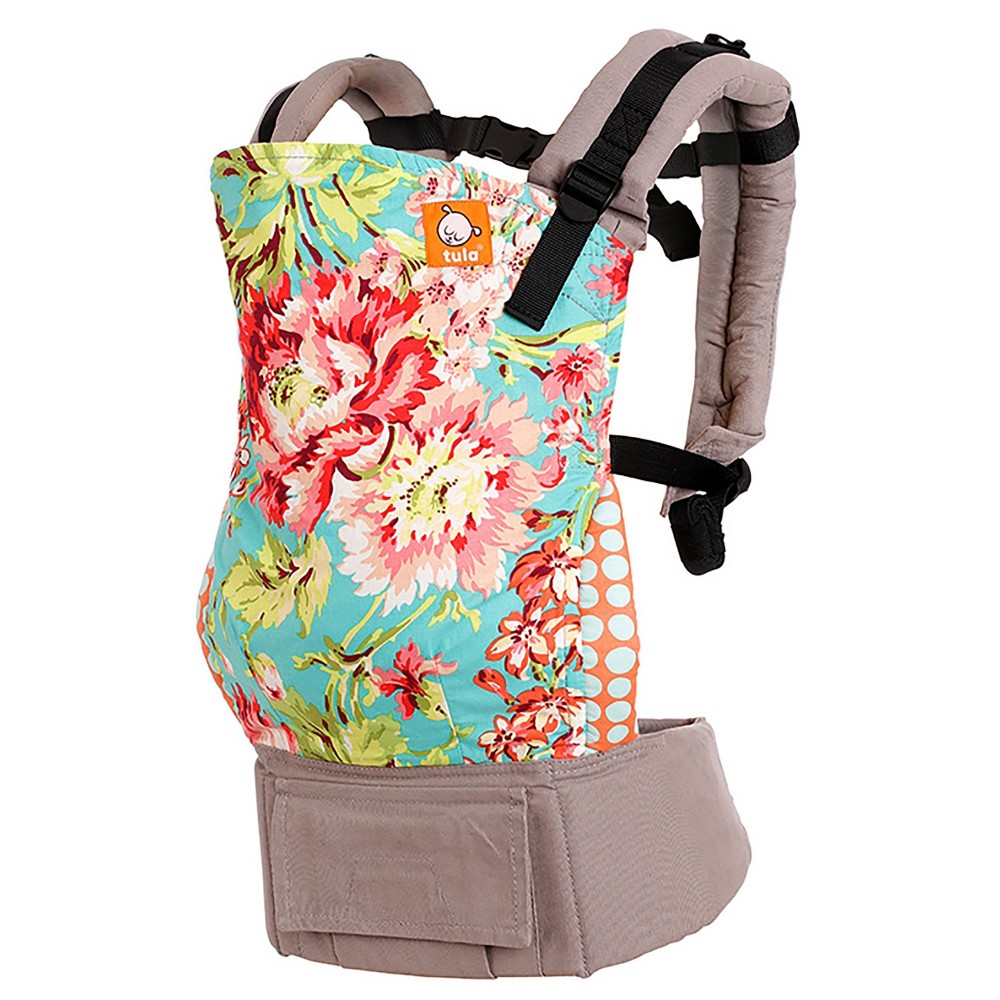 I currently own an Infantino Advanced 4-in-1 carrier, see it here – I do not recommend it. My husband and I added it to our baby registry without researching or reading reviews. Basically, after wearing my daughter for a half hour or more, she would develop red marks where the cloth ended at the spaces for her legs. We wouldn't last much longer before I'd ultimately have to take her out because she was uncomfortable. Maybe the material is too stiff for a newborn? The Infantino carrier that we had wasn't too pricey, so that could be the problem as well. Either way, I don't recommend the brand or product.
Baby Bath
Although newborns don't need too many baths, since all they do is eat, sleep and poop, I opted into buying a cheaper version of a baby bath. All I had to do with a bath seat was take it out of the closet and place it in our bath tub. As tired as us mamas get, the least we can do is make certain tasks a bit easier for ourselves. I couldn't see myself dragging a huge tub out just for my newborn to soak in for a few minutes, a few days per week. At Target, these baby bath seats can be purchased for just $12 and some odd cents. I didn't even bother putting a large, obnoxious tub on my registry – this foldable Summer Infant seat (pictured below) worked well enough to my liking!
I hope this was helpful to all you mom-to-be's, new mamas, or any other parent looking for helpful (and completely honest) reviews of baby products I love and those I was not very fond of! Wishing everyone a wonderful week ahead! Let me know by commenting below if you have anything else to add or suggestions towards other products. I'm sure other mamas reading would appreciate your honest feedback. 🙂